We are Reading
To continue to promote a love of reading across school, we have joined Lancashire's 'We are Reading' campaign alongside other schools in the local area. We have lots of exciting events and activities planned over the next year.
Our Pledge
World Book Day 
World Book Day saw the launch of Lancashire's year of reading where all the children and staff dressed up as their favourite book character. We also took part in a book swap session.
Michael Rosen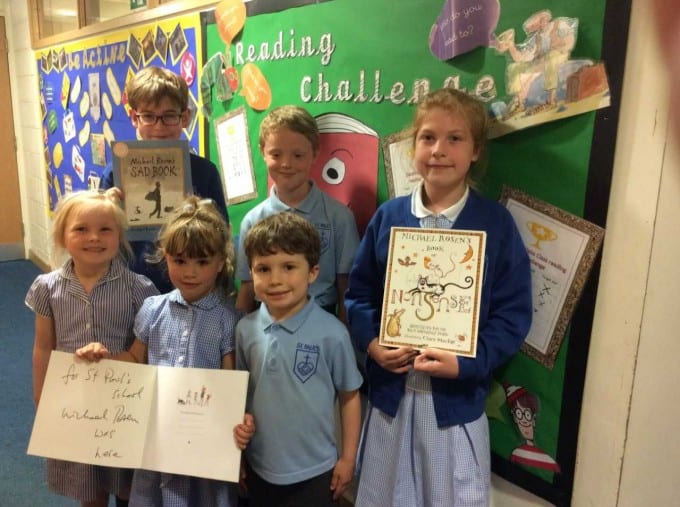 Mrs Charlesworth was extremely fortunate to meet the well-known author and poet Michael Rosen at a conference recently and she was able to get a signed copy of his famous, award winning book 'We're Going on a Bear Hunt' exclusively for St Paul's. Here are some of the children with the book which we will proudly display in our library. Michael Rosen even 'retweeted' our Twitter post and photo. How exciting!
'We are Reading with our Families'
We would like to invite you to take part in our 'We Are Reading with Our Families' project. For this we would like a photo of your child reading with members of their family and these will be displayed across school. We have already received some amazing entries.
Scholastic Book Fair
We held a Scholastic Book Fair in school during the Summer Term where lots of children took advantage of the 3 for 2 offers. Thanks to your support in this event, we were able to earn £260.63 in rewards. This will be spent on further improving our school library. Each class will be allocated an equal amount of the money and will choose what books they would like to see in the library. The wish lists will then be shared during a librarian meeting and the books will be ordered.
Other Events Taking Place
'We are Reading with the Community'
We have two special events planned in the Summer Term where groups of children have been selected to read with members of the local community. Some children from Year 5 and 6 have been invited to read with residents at a local care home and some children have been invited to read with children from Bright Futures Nursery School.
[slideshow_deploy id='9497′]
[slideshow_deploy id='9555′]
'We are Reading in the Library'
Each class across school will have the opportunity to visit Rawtenstall library. More details will be sent home nearer the time.
Watch this space for more exciting events across school. As always, if you have any ideas or expertise in this area, please let your child's class teacher know. We would love everyone to be involved in this exciting campaign.
Letters
We are Reading with our Families
We are Reading with the Community BFN
We are Reading with the Community