Rossendale schools year 4 football league:
We are very excited to be a part of this new league, alongside 16 Rossendale schools.
It offers our year 4 squad the opportunity to play competitive league matches prior to the Rossendale schools sports partnership year 4 knockout football competition (scheduled for June 2016).
7-a-side rules apply, with the exception that league games can be played on any surface, including indoors, and on pitches of any size. The aim is to develop player's skills and gain experience playing on different surfaces.
Matthew and Alfie from Griffins class pulled the numbers out of the hat.
The leagues were drawn as follows;
Rossendale schools year 4 football league competition 2015/2016:

The top two teams go through from each league, qualifying for the knockout stages, which again will be drawn out of a hat.
True to form we've been landed with a tough group.
Thank you to all the schools taking part, it is yet another example of the fantastic efforts that Rossendale schools put into taking part in competitive sports.
Good luck to you all.
Year 4 football:
Our squad trial is now complete and those selected for our 2015/16 year 4 football squad will be notified by letter.
A huge thank you to all the 25 children that turned out, the level of competition was very high, as always.
To all those who didn't get in, keep playing!
As squad places become available later in the year, you may still be offered a place in the squad.
We are delighted to welcome a new coach to help with our year 4 squad this school year, Mrs Gilbey.
Mrs Gilbey will be helping with training, admin, team selection and managing some of our team matches (Read: pulling her hair out on the touchline!)
This will help us to cut down the number of training sessions that have to be cancelled due to fixtures and competitions.
I hope all our players have as much fun as I do.
Parents, get ready for the mud!
Year 5/6 football league:
St Paul's are delighted to be able to field two teams in this competition for 2015/16.
Huge thanks to Mr Driver over at Helmshore for setting up and running the league again this year.
2014/15 League champions: Waterfoot
2014/15 Cup winners: Helmshore
The 2015/16 league draw is as follows;

The top two teams from each group go through to the league knockout stages.
In the 2015/16 knock out cup the draw is as follows;
Preliminary Round:
St. Anne's v St. Veronicas
St Pauls B v Waterfoot
Stubbins v Crawshawbooth B
St. Peters v Helmshore Tigers
Round 1:
Balladen v St. Saviours
Broadway v Our Lady St. Anselms
Britannia v St. James the Less
Crawshawbooth A v Haslingden
St. Joseph's v Holy Trinity
St. Peters or Helmshore Tigers vs St Pauls B or Waterfoot
Stubbins or Crawshawbooth B vs St. Annes or St. Veronicas
Tonacliffe v St Pauls A
Also, before half term, we also have the Rossendale schools year 5/6 knockout cup competition, a very competitive tournament run by Rossendale school sports partnership. I'll post details of this when they come in.
I know all our squad cannot wait to get stuck in, good luck for the season gang!
Year 5/6 girls football:
Congratulations to Balladen who won the 2014/15 league championship on the last day of the school year with an exciting 3-2 win against St Pauls.
Balladen also took the Rossendale schools 6-a-side cup title.
We were thrilled with our B team's efforts, many making their debuts, who battled through to the semi-finals of the league, going out to eventual champions Balladen.
The draw for the 2015/16 girls football league is as follows;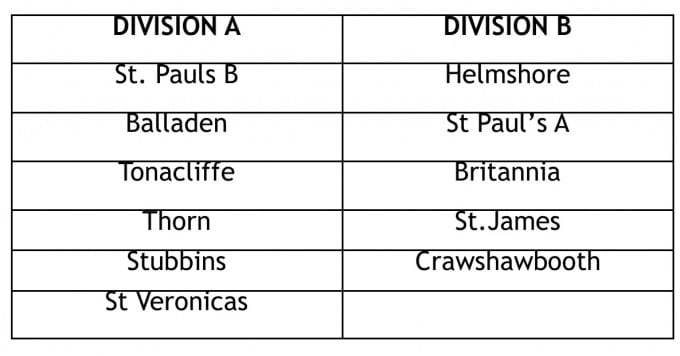 The top two teams from each division go through to the knockout semi-finals.
Our coach again this year is Miss Cowgill, hindered by Mr Rush when fixtures allow.
We hope to enter two teams again in this years' competition.
Squad/training letters will go out soon, so get practicing gang!
For those new to football, who fancy having a go, grab a letter and come and have some fun!